GRACE: Gold Summer Camp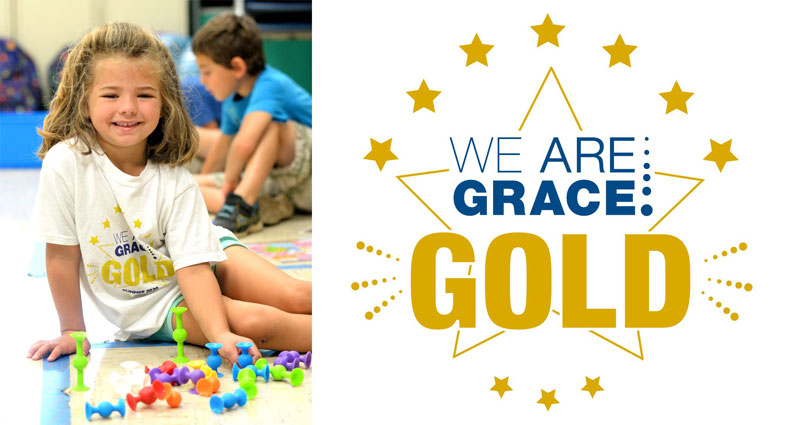 GRACE: Gold Summer Camp celebrated its fifth year in 2022, with four separate week-long sessions (including morning and afternoon classes) spanning the month of July. We are proud to help guide our students in growing spiritually, academically and socially through fun, innovative summer camp classes at GRACE: Gold.
GRACE believes in nurturing the whole child, which includes spiritual guidance and growth. With our GRACE: Gold programming, which includes a weekly Mass, we are committed to ensuring that faith is an integral part of our summer camp experience.
We are grateful to St. Jude School for partnering with GRACE to host summer camp classes at 1420 Division Street, Green Bay, 54303.
Before and After School Child Care options also are available to assist families whose children are engaging in our camp experience.
Program Dates
Tuesday, July 5 – Friday, July 29, 2022
Pricing Brackets
Half Day/Full Week Class – $80
Half Day/Full Week/Block Class – $108
Half Day/Full Week/Gold PLUS+ Class – $108
All Day/All Week Class – $216
Add-on Class – $8
Enrollment
Open Enrollment Start Date: Monday, March 7, 2022
Early Enrollment Start Date: Monday, February 28, 2022
Early Enrollment Perks: registration fee waived, 2022 GRACE: Gold t-shirt included
Enrollment fee: $10
Registration
Program Location
St. Jude School *
1420 Division Street
Green Bay, WI 54303
* School/Camp entrance located on Kellogg Street.
Camp Courses
Green Bay Packers Give Back
The Green Bay Packers Give Back award, previously known as the Community Quarterback Award, has been around since the year 2000 and has been helping communities and volunteer efforts ever since. This award is an amazing way that the Green Bay Packers can recognize and support non-profit and tax-exempt organizations in the surrounding Green Bay community. We are thrilled to announce that GRACE: Gold Summer Camp was one of the recipients of the Packers Give Back award for the 2022 camp year!
GRACE and GRACE: Gold Summer Camp are so excited to be partnering with the Green Bay Packers this year in making GRACE: Gold Summer Camp one of the best years yet! In support of the donation, all GRACE: Gold t-shirts will have the Packers Give Back logo on the back of the shirts to show our appreciation and gratitude for the award. The donation will be going towards transportation for off-site summer camp courses and field trips in addition to purchasing course supplies for our cooking, baking, art, and science courses.
The Green Bay Packers Give Back award is funded by the Green Bay Packers and the National Football League.
Contact Information
Laura Blicharz, GRACE: Gold Summer Camp Program Director
920-499-7330, ext. 1015